Travel, Transition, & Training
First Month on Staff with YWAM Montana | Lakeside
September 8th, 2020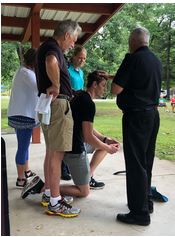 Before I dive into all that has happened since leaving Shawano at the end of July, I first want to thank Zion Lutheran Church and each member who has walked alongside me as my church family, especially as I have traversed this path toward ministry and missions. Thank you for every bit of interest and passion you have shared in regard to all God has led me toward these last few years, and more than ever in these last few months as I have been preparing to step into full-time missions with the School of Biblical Studies at YWAM Montana-Lakeside. Thank you to Pastor Scott for consistently championing me to step into what is new and uncomfortable, and for showing me the value of outside-the-box thinking in ministry and in life. And a big thank you to the Zion Lutheran Church council, the Zion Endowment Fund committee, and all who have partnered with me to support this mission and my role in this ministry by offering your encouragement, through giving financially, and in lifting up your earnest prayers. You power this ministry and you are an invaluable part of what God is doing in and through each student who will be coming here to Lakeside in just a couple of short weeks to be equipped with a Biblical foundation and transformed through God's Word.
Travel & Transition

After packing up the car (another huge thank you to Bob Voss for making this part possible with his generous gifting of his car to support my being able to go to Montana), the cross-country drive commenced for my mom and I. Along the way, our adventure included stops at a few national landmarks and parks, in addition to some more local Montana staples for tourists.

This time also accommodated last-minute preparations to consider as we would arrive in Lakeside, MT. Little did we know that God already had considered all of these details and was already faithfully providing in ways that were outside of our control. The transition into living on the YWAM base can be summed up with one short story:

Needing a bed to sleep on, we went to a local mattress store and asked if there were any decent deals on a twin-xl mattress (given that I am 6'6" and prefer to fit on my bed). A quick glance at a clipboard reminded the employee of a mattress that had been returned just days prior - a twin-xl mattress and boxspring! These items were now on clearance as a result of their returning without use, and they would be ready for pick-up the next day! On top of the significant discount for the bed, the manager knocked off another portion of the price when he learned why I was moving to Montana and the ministry I am joining! This type of happenstance was popping up at seemingly every anticipated point of concern, and as a result, the transition could not have gone smoother in regard to all the physical needs considered ahead of time.
Additionally, reconnecting with old friends here and making new connections within this community has been an integral part of making all that is new in this transition already feel familiar.
Training
Through this first short month of staff training and preparation for students to arrive two weeks from now, one of the core focuses of our time together has been directing our attention back to the core reasons we are part of this mission-centered Bible school. We have invested the time and space to be able to answer the "Why?" questions and thus discover the heart of this ministry and our place in it. One phrase that came out of this time was "Faithfulness > Performance". As teachers, we can easily be caught up in how we look in doing our job and how polished and put together we present ourselves to be. This is not the measure of what makes a good Bible teacher and it is not the reason God called us to this ministry or to these students. We are called to be faithful in what God is calling us to do with our students and how the students can best be taught and served. God knows what each student needs to hear and how it can be best communicated to them, and we therefore are to walk this out by the lead of the Holy Spirit.
On top of focusing on the heart of being a Bible teacher, our training time has focused on key attributes of effective teaching and discipleship, such as communication styles and variability of use in a teaching context, constructive feedback, and coaching our students.
Interested in learning more or joining with me by supporting this ministry and my role in it?
If you would like to learn more about what I am doing in Montana, why I am in this position as a missionary Bible teacher now, anything else about how God has been leading me into this role, or what being a partner of this ministry looks like and how to become a supporter, please email me at connor.sleeper@ywammontana.org or call me at (715) 853-4531. Or click on the button below to look at my ministry information packet, which includes many of the aforementioned details:
If you would like to join me as a supporter on a one-time or monthly basis, please contact me or click on the button below:
Prayer Points
A few things you can be praying for:
Praying for our students to finish their time at home well and to invest in all God is doing in and through them at home these next couple of weeks.

Praying for us as staff, as we prepare for the students' arrival and all that God will be leading them to and through in their time here.

Praying for good health this fall for students and staff in regard to COVID and any other illnesses, and that we would exercise wisdom and grace together with one another in this time.

And let me know how I can be praying for you!