Unity & Laying Down of Oneself

Easier said than done. But when done,
more powerful than words can capture.

January 2, 2021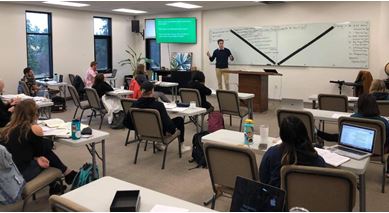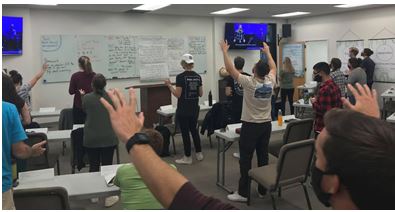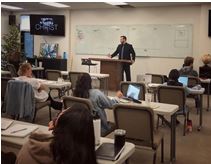 Both staff and students needed to adapt in the midst of following protocols to assure a safe and responsible classroom environment for all. This included teachers and students adapting from in-person teaching and learning, to virtual teaching and learning from one day to the next when necessary.
Back in November, I had the opportunity to teach the book of Philippians. Within this letter, Paul is writing to a church in Philippi comprised of members primarily struggling with valuing their own personal rights above the wellbeing of their neighbors, while division among individual members is having a negative impact on the church as a whole.

Paul's message to address this problem? - Look to the ultimate example in Jesus of laying down oneself and one's rights for the sake of others, for the sake of unity, and for the sake of the gospel. Look to the ultimate example of humility in Jesus.
Philippians was not the only book to address this topic or communicate this message. In fact, two themes that our students consistently discovered in new ways through their study of the New Testament were unity and laying down one's rights for the sake of the gospel and for the sake of one's neighbor.

With each book our students studied, new revelations around these topics were discussed with an urgency and excitement to live out these values among one another. Stepping out of their comfort zones, each student discovered new ways they could apply these truths to their current timely circumstances. While perspectives on COVID policies and protocols naturally differed among a large enough group of people, the unified approach to selflessly lay down personal opinions and freedoms and follow through with the necessary protocols for the sake of the school and community as a whole, while still being able to have open, respectful, and quality discussions around the topics, was inspiring to see lived out with integrity among our students.

While the students exemplified this so well with one another, all of the staff at YWAM Montana were discovering new ways to live this out as well under dynamic and unforeseen circumstances.
One value discussed during staff training was the phrase "We are the base."
This phrase means that before we are separate departments, we first and foremost all together comprise "the base". If one department of the base has a need to be filled, then we have a need to be filled. If the base needs help in any way, we do not look at the situation as "their issue to take care of" but as "a need we can fill".

The circumstances of this year made this value a reality more than ever. To make it possible for students to be on base this fall, every staff member had to step up and take on more duties outside of individual departments' job descriptions than would be normally needed. Once staff members and entire departments were subject to quarantine and isolation protocols, those who were able then stepped up to fill spots which had been vacated as a result. Every staff member, regardless of position or department, became a chef, a custodian, a groundskeeper, a delivery-person, and more as the needs presented themselves, all while continuing to fulfill the duties of their own positions.

For the sake of giving our students the opportunity to be trained, equipped, and sent, and for the sake of the gospel going out to the nations, each staff member laid down personal comforts and expectations, stepped up to take on responsibilities that had not been previously required of them, and stretched themselves to adapt and to approach their more typical positional duties in new ways.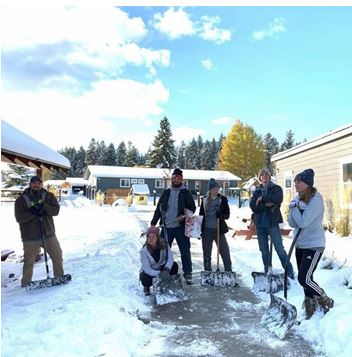 Fulfilling Our Goals by
Doing Whatever It Takes Together

As expected, we as YWAM Montana could not have expected how the first three months of running schools with students in-person would go in some ways, but we were prepared to handle changing circumstances as they unfolded. This was made possible by everyone in the YWAM Montana community - students, staff, and leadership - doing whatever it would take to train, equip, and send missionaries to the nations, along with everyone who has been supporting us from afar making the fulfillment of this goal possible through prayer, encouragement, and financial provision.

As a result...
The School of Biblical Studies (SBS) ran with limited interruption from sickness through the first three months, and will continue in-person after Christmas break.
After three months of training and preparation, outreach teams were sent out internationally from the Discipleship Training School (DTS) and the School of Worship (SOW).
Four outreach teams from Titus Project (a Bible-teaching school) completed an international two-month outreach this fall, returning in time for the holidays.
Outdoor Ministry Program (OMP) and Worship & Outreach Resource Development (WORD) successfully completed domestic outreaches this fall.
Numerous departments were able to do local outreach to the Flathead County community.
Interested in learning more or joining with me by supporting this ministry and my role in it?
If you would like to learn more about what I am doing in Montana, why I am in this position as a missionary Bible teacher now, anything else about how God has been leading me into this role, or what being a partner of this ministry looks like and how to become a supporter, please email me at connor.sleeper@ywammontana.org or call me at (715) 853-4531. Or click on the button below to look at my ministry information packet, which includes many of the aforementioned details:
If you would like to join me as a supporter on a one-time or monthly basis, please contact me or click on the button below:
Prayer Points
A few things you can be praying for:
Praying for our students to be well rested and refreshed as they return from Christmas break.
Praying for us as staff, as we are working with students and preparing teachings.
Praying for myself as I prepare to teach 2 & 3 John this coming Friday, and as I prepare to teach Judges in early March.
Praying for good health this winter for students and staff in regard to COVID and any other illnesses, and that we would exercise wisdom and grace together with one another in this time.
And let me know how I can be praying for you!