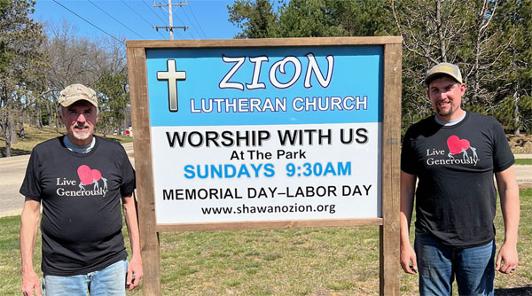 Tom and Steve Laude invite you to worship at our park service this summer! Bring a lawn chair!
1254 S. Union Street
Shawano, WI 54166
715-526-2017


Summer Services begin
Memorial Day Weekend!

at Zion...
Saturday Evenings 5:00 pm
Sunday Mornings 8:00 am

at the Shawano County Park..
Sunday Mornings 9:30 am
Past issues of the Focus available under publications.

Click logo to visit Zion Youth's facebook site!
Services at Jerusalem
in Lunds...
11:00 am on
May 29, July 3, Sept. 11
You Can Donate to Zion
Online to the
General Fund here!
Please consider increasing your donation to cover the transaction fee (3 percent) charged to Zion. Thank you!


Interested in signing up for electronic giving? It's easy!
See questions or form.

Worship with Us at Zion!