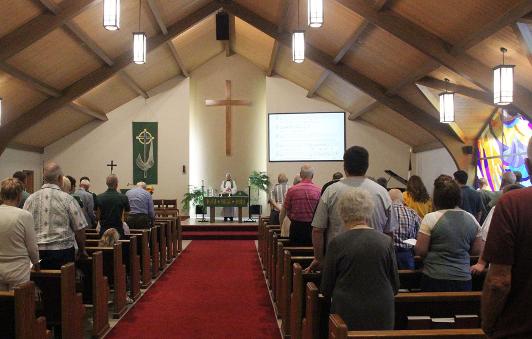 1254 S. Union Street
Shawano, WI 54166
Phone: 715-526-2017

Worship With Us:

Saturdays at 5:00 pm
Sundays 8:00 & 10:30 am


Memorial Day weekend thru
Labor Day weekend Sept. 2:
At Zion...Saturdays at 5:00 pm
Sundays 8:00 am
At the Shawano County Park...
Sundays 9:30 am
At Jerusalem Church, Lunds
11:00 a.m. May 27, July 1, & Sept. 2

October issue of the Focus available here contains info about...
"Improving Health through Nutrition" information sessions
9:00 - 10:15am in the Fellowship Hall:


Oct. 15: Cut the Confusion! Reading Labels & Knowing the Lingo!

Oct. 19: Grocery Tour at County Market 8:30am
Oct. 22: Habits to Instill….Ditch the Diet!

Book Club meets 2nd Wednesday at 3:30 in Zion's library.
Packer/Viking weekend at Zion October 14/15.

New Member photos and profiles.
Free Exercise Classes Tuesdays & Thursdays 4-5pm

Sanctuary Renovation Completed!
New lights installed! Flooring installation! Cross is up!
Stained glass window installation!
Sanctuary Renovation brochure here

Interested in signing up for electronic giving? It's easy. See questions or (form)Worship Volunteers schedules - under "Publications".Click logo to visit Zion Youth's facebook site!


You Can Donate Online to the
General Fund here!
Please consider increasing your donation to cover the transaction fee (3 percent) charged to Zion. Thank you!